You can tell a lot about a person by the watch that they wear. This is a universal truth. The watch is something that can turn somebody's public image from one thing to another; transforming the perception of an individual from one with less dignity, respect, and style to one with more– just like that. However, watches can also serve to do the exact opposite. The wrong watch is like a bad haircut, except in a way it is worse: we have the agency to control the purchase and aesthetic of our watches completely, while a haircut is often in the hands of someone else. With this in mind, I think it is prudent to consider that we should be extremely selective when engaging in the process of choosing our wrist watches.
It is important to keep up with certain trends when it comes to style. Some ride the mainstream, and some flow in the undercurrent. When it comes to watches, there is an undeniable force of subtle aesthetic that continues to permeate the industry and shine in its entirely unique way… The wooden wrist watch. Wooden watches have something truly special about them. They are both modest and impressive, subtle and stylish, and slick and simple. This respectable style is infamously sleek and beloved by many.
But, like most objects that come in a range of brands and styles: not every wooden watch is created equal. Indeed, many are objectively better than others, while others offer subjectively better styles that suit different people in ways that are preferable.
Here at our site, we are quite keen on wooden watches, and have decided to use our expertise and enthusiasm in this field to compile a list of the 8 best wooden wrist watches that you will find on the market today.
1. Plantwear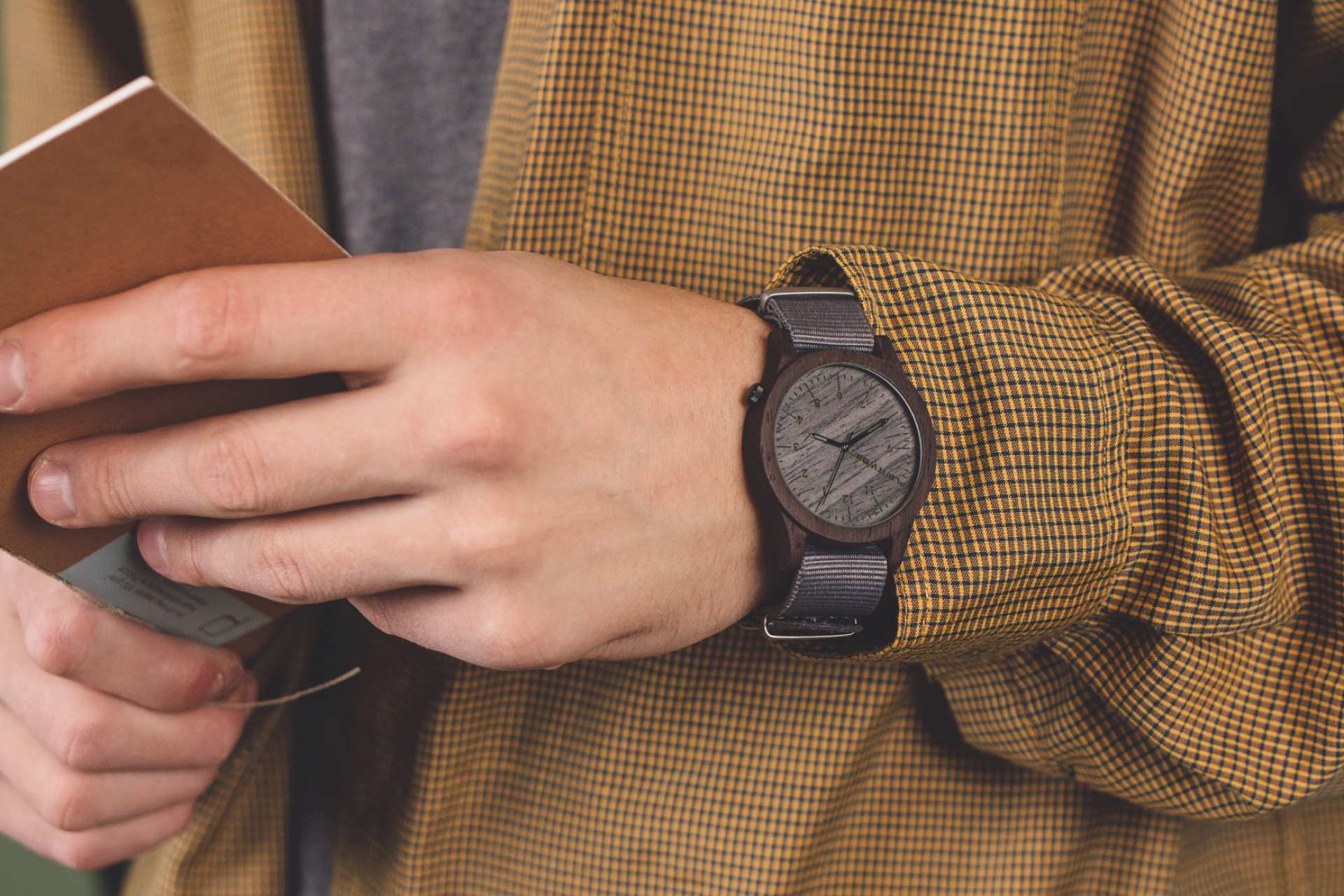 The watches at Plantwear.com are second to none. Really, this is the best brand of wooden watches on the market right now. We tried to pick a favorite from their collection, but the task basically proved to be an impossible one. Plantwear's line of wooden watches are incredible, and their similar products in the fields of wooden cell phone cases, sunglasses, and rings are equally awesome. Prices on these fine specimens range from roughly $120-350, but each watch brings its own level of originality in style. Watches can be purchased that are built from or in the style of oak, maple, Massaranduba, ebony, wenge, walnut, and more. You definitely get what you pay for with the higher end watches in the Plantwear collection, but the less expensive ones are absolutely not something to scoff at– that is for sure. This is not necessarily a ranked list, but it would be hard to argue that this #1 is not the best watch on this list.
2. Wonbee
Wonbee's bamboo wood watch for men is a really great timepiece. It may be "for men" but this is a watch that definitely reads as unisex. High-quality Japanese quartz creates a timing system that runs dependably and efficiently, the leather strap provides strength and style, while also feeling soft to the touch. Despite the soft and light feel, this is a heavy duty little machine in that the battery will keep it running for a minimum of three straight years. On top of all of this, this device comes with a 100% money-back guarantee. What's there to lose?
3. Viable Harvest
Well, this is one highly stylized wooden watch, which manages to truly stick out from the rest of the competition. This is an all-natural option and is renowned for feeling great on the skin. As somebody who has used it, I must say that I can't help but agree. It is beautiful to the eye, silent to the ear, and feels extremely light on the wrist. Each of these wonderful decides is totally made by hand as well, which is incredible. This watch comes with a box which is custom made for the watch, as well, making it absolutely perfect for gifts. The band is made from real leather. This is another example of a unisex watch. The money-back guarantee adds a cherry on top of this particular purchase.
4. CUCOL
Wow. Cucol's wooden watch is incredibly slick and awesome. Not often is eco-friendly combined with this level of quality and beauty, but CUCOL manages to do it with what appears to be utmost simplicity and ease. The glass face is protective and the watch never requires winding because of the oscillating crystal. This is a high-level product that is both physically and practically impressive. It's also about as close to "waterproof" as a wooden watch can get, which obviously comes with many major benefits. Despite the large face of the watch, this is not a bulky or clunky watch– it remains quite sleek and respectable.
5. Tree People Watch
This is a beautiful watch with a case that is made with absolutely nothing exist pure, handmade bamboo. This is an eco-friendly option that is resistant to water, durable in general, and highly operational; it is quiet and works precisely and dependably. Honestly, there is nothing to complain about with a watch like this. There is even suede on the inside of the watch, which is quite friendly and soft to the skin, and the band consists of incredibly smooth leather that is very generous and kind to the skin. What is there to dislike? To be honest, we simply can't find a single thing. It is not extravagant in appearance and many people may prefer something that makes a bit more of an engaging fashion statement, but this is still well-crafted, aesthetically pleasing, and remarkably functional. Sometimes simplicity is a gift, and that is the case with this particular wristwatch, in our opinion. All of this partnered with the one-year manufacturer's guarantee makes this an incredibly fine purchase.
6. Woodgrain
This is another watch that is made by hand with high-quality, genuine wood and other admirable materials gathered from nature. Many stay away from wood watches due to allergies, so a hypoallergenic watch like this one is quite suitable and preferred by many. In general, this is a stylized, simple, light watch that feels very good to wear. It comes with a black, protective box that is built specifically for it. The purchase of this wrist watch also includes a 100% money-back guarantee.
7. Ideashop
Ideashop's wristwatch is a great option. It is completely free from toxins, feels light on the wrist, and is well-known for its comfort. On top of all of this, it is a practical, light watch that is easy to wear. It feels great! The battery that comes along with it will run for at least five years. The band of the watch is noticeably adjustable, which is also a major plus when it comes to wooden watches, which do not always offer this feature.
8. Gearbeast Bewell ZS
Is this as great as the previous 7 watches? Not really. Is it still a darn great watch? Yes, we think so. There are some unique upsides to this watch; the fact that you can choose the band color between a range that includes everything from zebra to vera is just one of them. Also, the watch is light and smooth. Also, it comes with a watch box that will protect it during the times in which you are not wearing it on your wrist. The 30-day guarantee is nothing to scoff at– but it does not quite compare to deals that accompany many other watches on this list. Also, it is not water resistant, and does not do great in extreme sunlight either– the wood is known to change color with too much exposure to the sun.
I dont know why it gets me going, maybe its because I hate seeing my friends pay 4x the cost for something when there is a comparable, if not better, alternative for them. The latest one to get under my skin has been the over the top number of advertisements I've seen for Beats X, the Beats by Dre wireless bluetooth earbuds. Now there are hundreds of reviews about Beats by Dre and most of the reputable ones tell you they are decent headphones that a bass heavy and always overpriced. You're paying $50 for headphones with a $250 image tax for those who want the logo on their ears (or around their neck in most cases).
The Beats X just came out and while I admittedly know nothing about them, their advertisements instantly reminded me of another pair of headphones that I do know a lot about. I didn't need to but I went to check the price of Beats X and of course they are $150, which is cheap by Beats standards but ridiculous if you know anything about audio quality.
Speaking of audio quality, I'm not an audiophile by any means. I'm just a dude who likes clean, good sounding headphones that are affordable. I've purchased all kinds and use different ones depending on the scenario but the ones I use most are the ones you should buy instead of the Beats X, the TaoTronics Bluetooth Headphones, Wireless 4.1 Magnetic Earbuds Stereo Earphones, Secure Fit for Sports with Built-in Mic [Upgraded Version].
Now you dont have to take it from me, there are over 6400 reviews for these on amazon with 83% either 4 or 5 star. That's enough social proof for me but even if you're skeptical b/c everyone is faking Amazon reviews these days, the TaoTronics are in the clear from ReviewMeta.
Everything the Beats X is advertising, the TaoTronics headphones have except maybe the quick charging but I've never needed that feature. I use the TaoTronics every morning for my brisk morning walks with the dogs and my workouts and a wide range of audio. Podcasts, Music, conference calls, all sound great on these $37 headphones and while Beats X is advertising 8 hours battery life, i've gone weeks without charging the TaoTronics. They sound great, they stay secure in my ears, the battery lasts a long time, mic and controls and the fancy magnetic back that Beats X thinks is so innovative.

For those of you that might be skeptical about a brand that you've never heard of, TaoTronics has a lot of products on Amazon and almost all of them are highly rated. You can see their full range of products here.
Anyway, if you're looking for an alternative to the Beats X or just looking for a solid pair of bluetooth earbuds, check these out. You will not be disappointed.
TL;DR – I'm a huge fan of OnHub. It isn't without its concerns but to me none are deal breakers. Two months of heavy use and I'm very satisfied with the purchase. Fast, stable and low maintenance.
Earlier this year my Internet connection via TWC started to become extremely unstable with constant dropped connections, low upload speeds, high latency times and the usual problems that most people have with their traditional Internet connections.  I tried everything to figure out what the culprit was before having to jump through the hoops of TWC tech support because there are only so many times you can unplug and restart your modem without pulling your hair out.
During my testing, I started to realize that the problems mostly existed on the 2.4Ghz band of my Asus RT N66U router as the 5ghz band was performing better, with the occasional TWC problems, but overall better.  This was all the excuse I needed to go shopping for a new router so off to Amazon I went.
I read the reviews on Amazon, Reddit, and all over the web comparing performance of various routers and for the most part they're all pretty close and suitable for what I need but with a gluttony of options in the WiFi router world I had to find a better way to choose. I've never had a problem with signal in my house (~2,000 sqft) in any of the rooms and my fairly old Asus RT N66U usually covered my half acre lot with solid WiFi without fail so that eliminated the need for a system like Eero (Amazon link) or Luma (Amazon link). That was a bit unfortunate as I was very interested in testing out their tech but since coverage wasn't my concern, I found it hard to justify the price of either system.
That left me with mostly traditional routers as options and they are hard to distinguish one from another.  Over the years I've used Netgear, Dlink, Apple, and Asus routers and despite a few GUI differences they are mostly the same and I think that is generally the case for today's routers.  It's also the reason I settled on Google's OnHub, it's a new way to WiFi.
Now I'm a bit more of a power user than the average person as I work from home, stream everything, have an HTPC, multiple IP Cams, and have dynamic DNS setup so the limited menu of Google's OnHub was a concern along with having only 1-Gigabit port on the router itself and no web GUI.  These are standard features on most other routers but Google was going for simplicity with its product and that's what really appealed to me.  As a relatively new dad, one of the things you realize is your time becomes limited or at least reprioritized.  In the past, I might have had a few hours to sit down and tinker with the hundreds of options on a router's GUI or load up DD-WRT and explore a new setup but it's one of the last things I want to do these days.  I'd much rather use the time to play with my boy or do something productive for the family and that is Google's pitch for the OnHub: It just works. That's why I ended up with OnHub vs a fancy spider looking traditional router, in the end, I just want stable, fast WiFi w/o having to think about it.
FWIW – I went with the Asus OnHub vs the TP-Link OnHub because most reviews said it had a more consistent signal.
I will say having a subreddit for OnHub helps. I was able to dig through it and look at various issues so I knew what I was getting into and tell if any of the known issues were going to be issues for me. In addition to having the subreddit, one of the product manager is active on there and answering a lot of questions, check out u/MegaTrondW's posts for more.
Having that activity shows to me that OnHub is under constant development and they are aware of the issues and addressing them. As a side note, I do love that OnHub automatically pushes software updates so I dont have to worry about going into the router's GUI, checking for new firmware, downloading it, apply-it, restarting and hoping it doesn't brick along the way. It's another way that OnHub simplifies the WiFi experience.
Addressing the Concerns
Limited Menu Options – Really everything I need from a router is provided with the OnHub app. Sure it would be nice to have built in Dynamic DNS and VPN options but there are other ways to address those and really most people don't need them [for DynDNS I use https://www.duckdns.org/ and have the client on my HTPC and it has worked well.]
No Web GUI – This one is occasionally inconvenient at first b/c its a habit to fire up the browser, go to 192.168.1.1 and reach your router but as with Google, everything is going mobile whether you like it or not.  Really this is a 1 on a scale of 10 in the issues world. I've quickly been able to adapt to using the app to do everything I need.  Occasionally I forget the click-path to get to things like the speed test but I'm sure the UI will get better as the app evolves. That is not to say its bad by any means, it could just use some polish.
1-Gigabit Port – This was one I was concerned most about at first but after realizing a switch is only ~$20 on Amazon (here's the one I got) I didn't think twice about it.
The 1 Thing I Still Don't Understand About OnHub
So Google has stated so often that they designed OnHub to not look like a normal router so that you can place it directly out in the open in your home in order to get a better signal.  Now that is great and all but you still have to connect it to a modem which for most people probably only comes into 1 obscure outlet.  For me, that outlet is upstairs in the loft pretty much out of view from everyone. So great design doesn't really solve that problem and I'm not sure what the thought process here was. I have no signal issues so it's not a huge concern but def. something I'm curious to learn more about their thought process around it.
On to TWC
So how did OnHub help me get better service from TWC? After numerous house calls and technicians trying the usual jibber-jabber and nothing happening TWC finally sent a Level 4 tech to my house. The Level 4 guys are the ones who know the most and are the last line of help before TWC sends your issue onto the Maintenance Team. The maintenance team is one who handles all of the area wide issues and equipment outside of your home. Since I know other people in my neighborhood are having the same problem, a statement which all other techs seem to gloss over, I was able to use the OnHub app to show the L4 tech what is happening with my inconsistencies. I did have to explain to him that OnHub does speed tests from the router rather than the device and demo this but none the less, he got it and was impressed.  If you run a speed test from your device on a traditional WiFi router the signal is sent from your device, over the WiFI, through the router, to the modem and out to the Internet.  Having that extra layer of WiFi in there could be the problem which is why when you call the TWC 800-number they always want you to plug directly into the modem to test the signal. The OnHub sends the signal from the OnHub and not the device but also does a separate WiFI test that they call "WiFi efficiency" and they measure that in %.
In the app screenshot you can see how my upload speeds vary from in the 20s to the 1-6 Mbps range which is really unacceptable for a cable connection. Since OnHub runs this test every day without me having to do anything, I'm able to monitor the connection and stay on top of TWC to get it fixed.  It also helped me display to the tech what my issue was since they aren't always able to recreate the issue in the short window they arrive.
I'll spare you from all my speedtest.net screenshots and latency graphs because there are plenty of sites who will go into more depth there but my OnHub is faster, more consistent and has slightly better range than my old Asus but most of all easier to manage.
Pros
Great WiFi range
Less variability in signal strength
Automatic software updates
Useful App
Automatic daily speed tests & at the router level
IFTTT.com integration – See my IFTTT recipes for OnHub
No-hassle router management
Cons
Requires a separate switch if you have more than one device plugged into it.
No NAT Loopback (won't be an issue for 99.9% of people)
No Dynamic DNS
No Router-level VPN
My Affiliate Links to Amazon if you want to buy one the OnHub or Switch. (Click on the picture)
I'm currently obsessed with the Jack Reacher series and I just finished 'Running Blind' in about 4 days. Its one of the shorter Jack Reacher books and I think it ranks the lowest of the Lee Childs books that I've read.  Not that it was bad, but it was different. What I did really like that was different than the other books was the second person point of views from the killer's perspective.  It immersed you into the mind of the killer.  Good book, 7.5/10 for me.